Hit the Switch DVD and CD
This April 18 we'll be releasing our very own DVD called 'Hit the Switch' at the Backstage Bar and Grill in Fond du Lac. See you there!
'Hit the Switch' is a rare, behind the scenes look at the creation of Road Trip, one of Wisconsinís most popular bands. This dvd features up close and personal interviews with each band member, including details about their lives, passion for music, and how they became performing artists. The dvd also includes a live concert featuring 14 of the bandís favorite songs.
An incredible story, an incredible show.
They will be available at our shows or online at our store.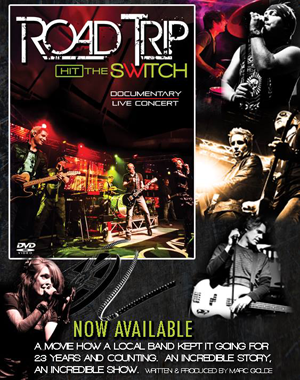 In July of 2013 we released the 'Hit the Switch' soundtrack. It was recorded at Rock USA 2012, Cheers in Chilton and Antonio's in Plymouth and mixed by Marc Golde of Rock Garden Studio. Thanks to our own DJ Doty for producing, which means overseeing every last detail, because it turned out great. They are available at our shows or online at our store.