Hit the Switch DVD and CD
Check out Road Tripís live concert / documentary! You can buy the DVD and the Soundtrack at the Road Trip Store NOW!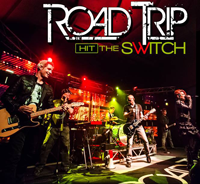 "The documentary follows a group of amazing performers and songwriters through their lives as they struggle to make it in the music industry. The film captures the personality of each band member perfectly and details the unique synergy that makes this group not only work, but provided a pseudo family unit inspiring creativity and free expression.
The movie tells the story in a first person perspective of the progression of the band as it grows and matures into an act that is worthy of a national rock band status. But just as the band realizes their talent they find themselves at a crossroads, needing to pick between trying to becoming something more or continuing to be excellent at what they love. They decide that the fans are more important than they are and their greatest good is served by providing great music to those that got them where they are today.
The movie is very well done; great lighting, sound and the effects are exceptional. The story is told with such brutal honesty it makes you feel like they are giving up too much personal information. But the openness of this band is its strength, and to reach a soul you need to show your soul, so Road Trip shows itís soul and forces you to open yourself to the music.
I feel a greater connection to Road Trip after seeing this movie and I highly encourage anyone to see it. I listened to their CD after seeing the movie and the music never sounded better." — Mike Johnson